Gingerbread Oatmeal | Dietitian Debbie Dishes
The magical gingerbread flavor combination of ginger, cinnamon, cloves, nutmeg, and allspice doesn't have to be limited to cookies – it tastes delicious in oats as well! Treat yourself this holiday season to this delicious gingerbread oatmeal; it's like a hug in a bowl.
I'm all about a classic breakfast like this cinnamon oatmeal, but if you are looking to change up your typical oatmeal flavor and topping combo – you'll love this gingerbread oatmeal! I love the rich flavor and spice from the molasses, nutmeg, and cinnamon. It's a great way to start off a day of holiday baking with something on the healthier side.
Why You'll Love this Recipe
A healthy breakfast that tastes like dessert! All the delicious warming spices of a gingerbread person served up in a steaming bowl of oats.
Make in just one pot on the stovetop in less than 10 minutes. You can also cook this in the microwave if you'd like.
This recipe is vegan, dairy free, egg free, nut free, and can easily be made gluten free to so almost anyone can enjoy it!
Ingredients You'll Need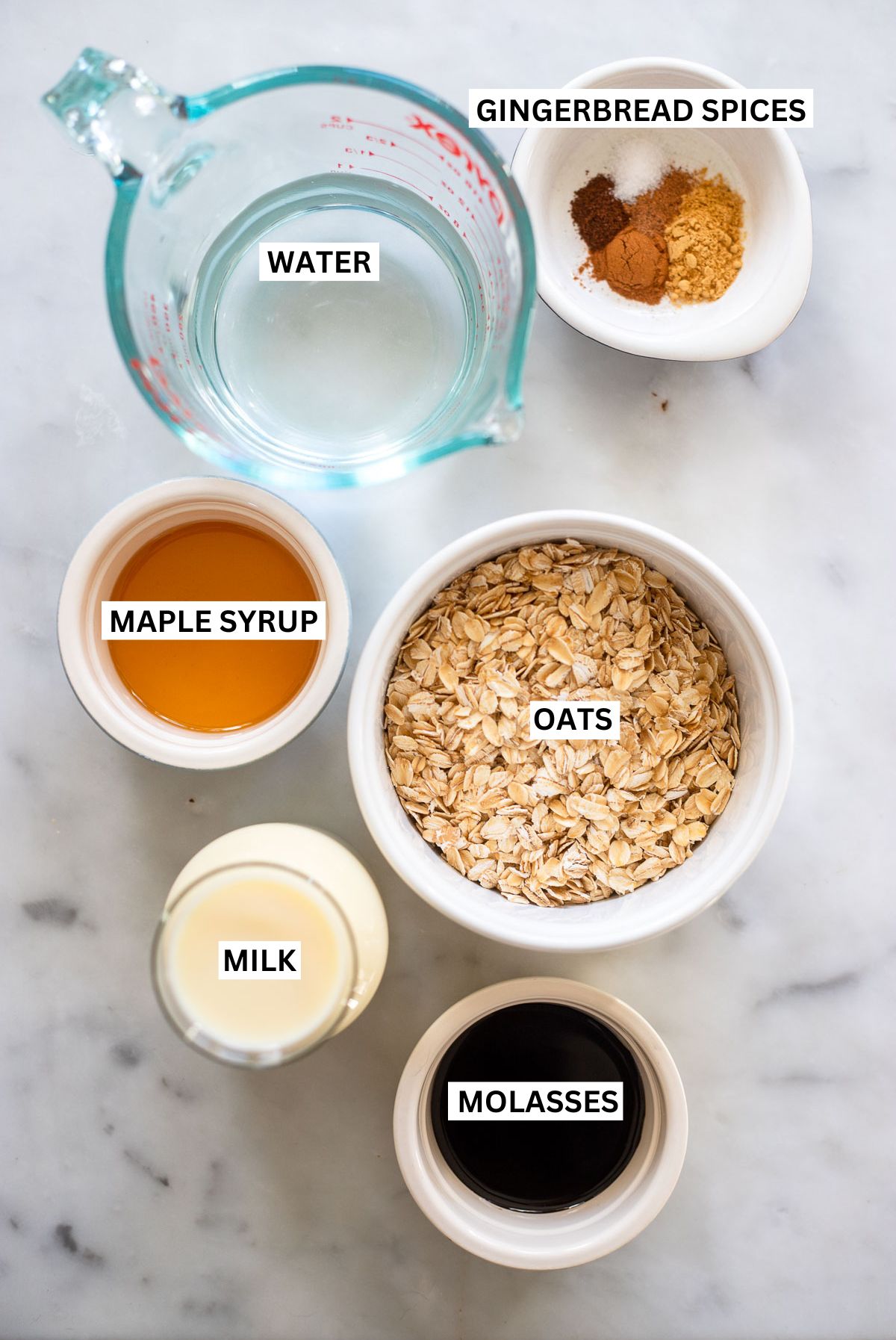 Oats: I like to use old fashioned rolled oats for this recipe, but you can use quick cooking oats if you have those. Use gluten-free certified oats if needed.
Milk: Any milk (dairy or non-dairy) will work for these oats; my preferred milk is unsweetened, plain soy milk. Use a plant-based milk if you want to make vegan oats.
Maple Syrup: Adds a little bit of sweetness. You can also use brown sugar or honey.
Molasses: You'll want to use an unsulfured dark molasses for this recipe.
Spices (Cinnamon, Ginger, Cloves, Allspice, Nutmeg): This combination of spices infuses the oats with all the traditional Christmas spice you'll find in gingerbread. In a pinch, you can use pumpkin pie spice or apple pie spice but it will taste just a little different. You can also purchase gingerbread spice – I'd recommend using 1 teaspoon for this recipe.
See recipe card below for a full list of ingredients and measurements.
Gingerbread Oatmeal Topping Suggestions
Fresh Fruit: Seasonal fruits like pear and pomegranate pair well with the warming spices in these oats.
Dried Fruit: Raisins or dried cranberries would be perfect on this gingerbread oatmeal.
Nuts/Seeds: Add some crunch by sprinkling your oats with some pecans, walnuts, or pumpkin seeds. I usually sprinkle on some hemp hearts as well for extra omega 3s.
Almond Butter: Love adding a spoon of almond butter to hot oats so that it just melts into the oatmeal. Cashew butter would also be a great option.
Candied Ginger: Add some extra gingery zing with some chopped candied ginger on top.
Gingerbread Cookies: make your oatmeal extra special by crumbling a few gingerbread cookies on top for crunch. It can be a great way to use up any that might be a little stale since they'll be soaked in milk on the oatmeal.
Step by Step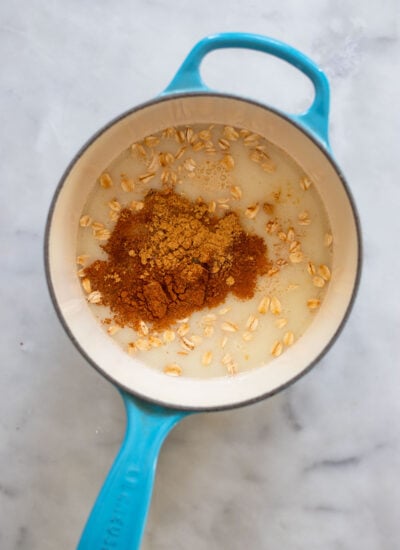 Step One: Add all of your ingredients to a small saucepan and bring to a simmer over medium-high heat.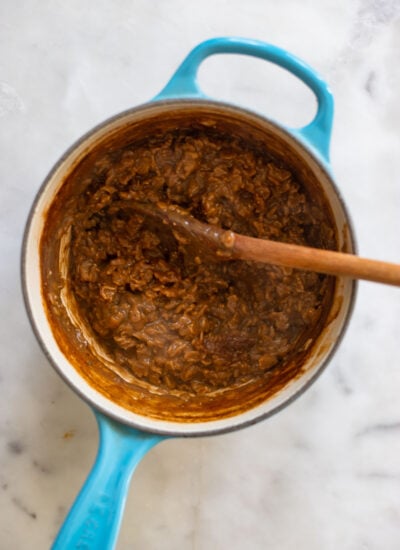 Step Two: Simmer for 5-8 minutes or until thickened to desired consistency. Transfer to bowls and add toppings.
Expert Tips:
Don't skip the salt! Just like you season any other dish, it's important to add a pinch of salt to your oats to brighten up all the flavors.
This recipe can also be made with quick cooking or steel cut oats. However, you'll need to adjust the cooking time.
To feed a crowd, double or triple the recipe and cook in a large saucepan or dutch oven on the stove.
Storage and Make Ahead
Double or triple the recipe so you have leftovers if you'd like. Portion oatmeal into containers once cooled and store in the refrigerator for up to 3-4 days. To reheat, add a splash of milk when reheating for a minute or two in the microwave OR in a small saucepan on the stovetop as the cooled oats will be thick. You can also eat the leftovers chilled if you like! 
Recipe FAQs
How can I add more protein to my oatmeal?
Add your favorite unflavored protein powder to the oats when cooking. Adding 1-2 tablespoons ground flax seed, hemp hearts, or chia seeds while cooking is another great way to bump up the protein.
What are substitutes for molasses?
The molasses is the key to that traditional gingerbread flavor, but in a pinch you can use brown sugar, dark corn syrup, or maple syrup.
Can I make this into overnight oats?
Yes! Just add all of your ingredients to bowl and stir well. Cover the bowl or transfer to 2 jars and refrigerate overnight. Give them another stir in the morning, add your desired toppings and serve.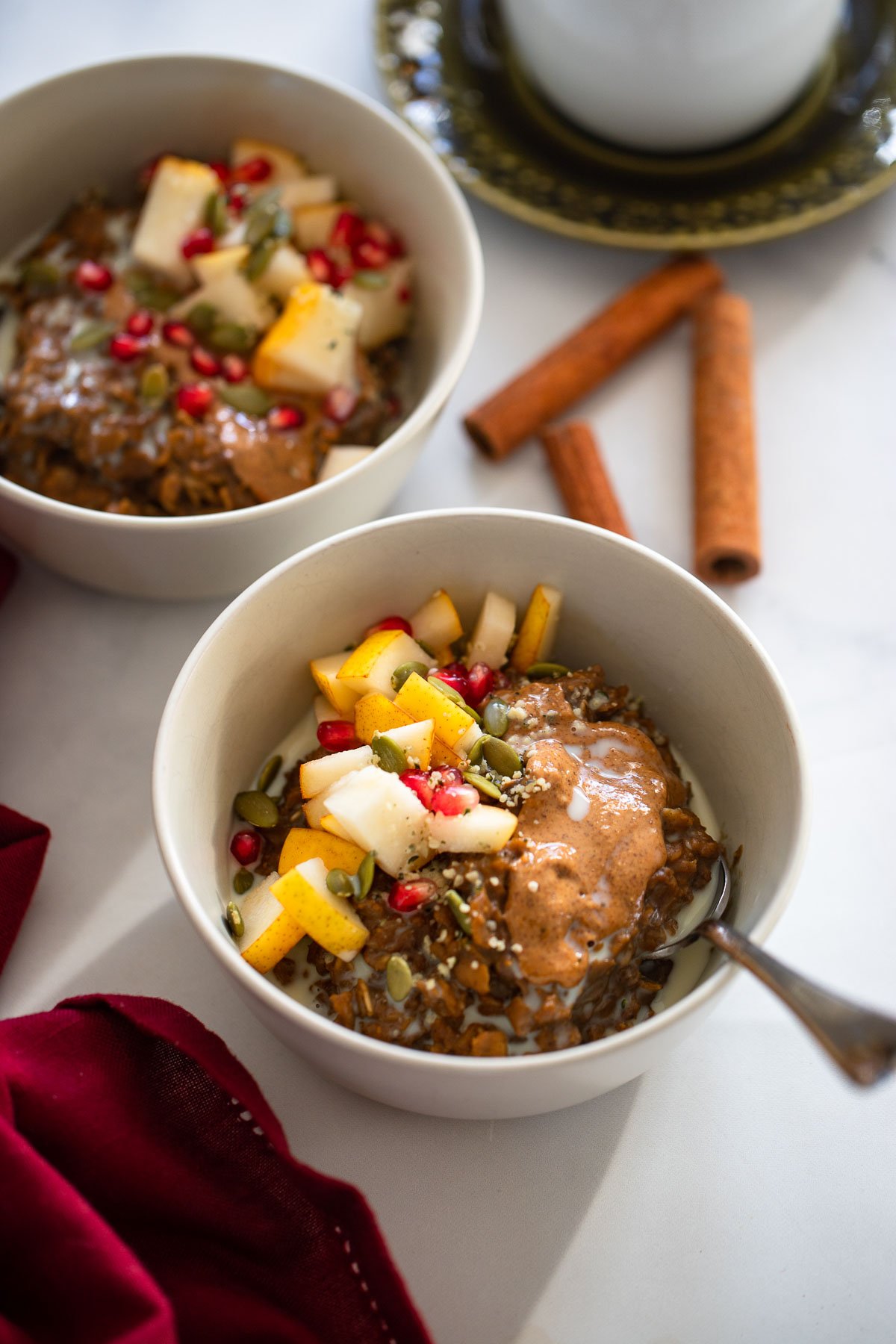 More Oatmeal Recipes You'll Love
Love this recipe? Make sure to leave a ⭐️ rating below and tag @dietitiandebbie on Instagram!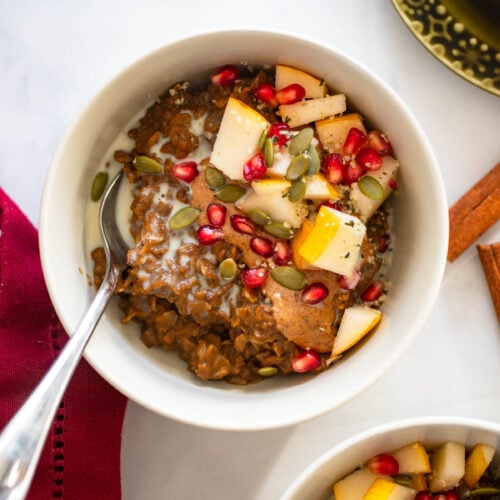 Gingerbread Oatmeal
The magical gingerbread flavor combination of ginger, cinnamon, cloves, nutmeg, and allspice doesn't have to be limited to cookies – it tastes delicious in oats as well! Treat yourself this holiday season to this delicious gingerbread oatmeal; it's like a hug in a bowl. 
Prevent your screen from going dark
Instructions
In a medium saucepan over medium-high heat, combine all the ingredients.

Bring to a simmer and stir. Stir continuously until liquid is absorbed and oats thicken.

Serve hot with desired toppings.
Notes
Microwave directions: add all of your ingredients to a small mixing bowl and stir. Microwave for 5 minutes, pausing to stir occasionally, until thickened to desired consistency.
Gingerbread spice: If you have a store-bought gingerbread spice, use 1 teaspoon in place of the spices in this recipe.
Topping suggestions: almond butter, pumpkin seeds, pecans, chopped pear, pomegranate.
Nutrition
Serving: 1/2 Cup | Calories: 399kcal | Carbohydrates: 69g | Protein: 15g | Fat: 7g | Saturated Fat: 2g | Cholesterol: 6mg | Sodium: 114mg | Fiber: 8.7g | Sugar: 17g
Reader Interactions