Camping Grocery List for my Easy Menu for Camping
If you just checked out my easy camping menu and now want the grocery list so you don't have to figure it out on your own, you are in the right place. I've compiled the camping grocery list for you. If you need the menu – just go back to that post first.
The camping grocery list broken down by shopping category based on my Easy Menu for Camping (quantities are based on serving 4 adults or 2 adults + 2 teens).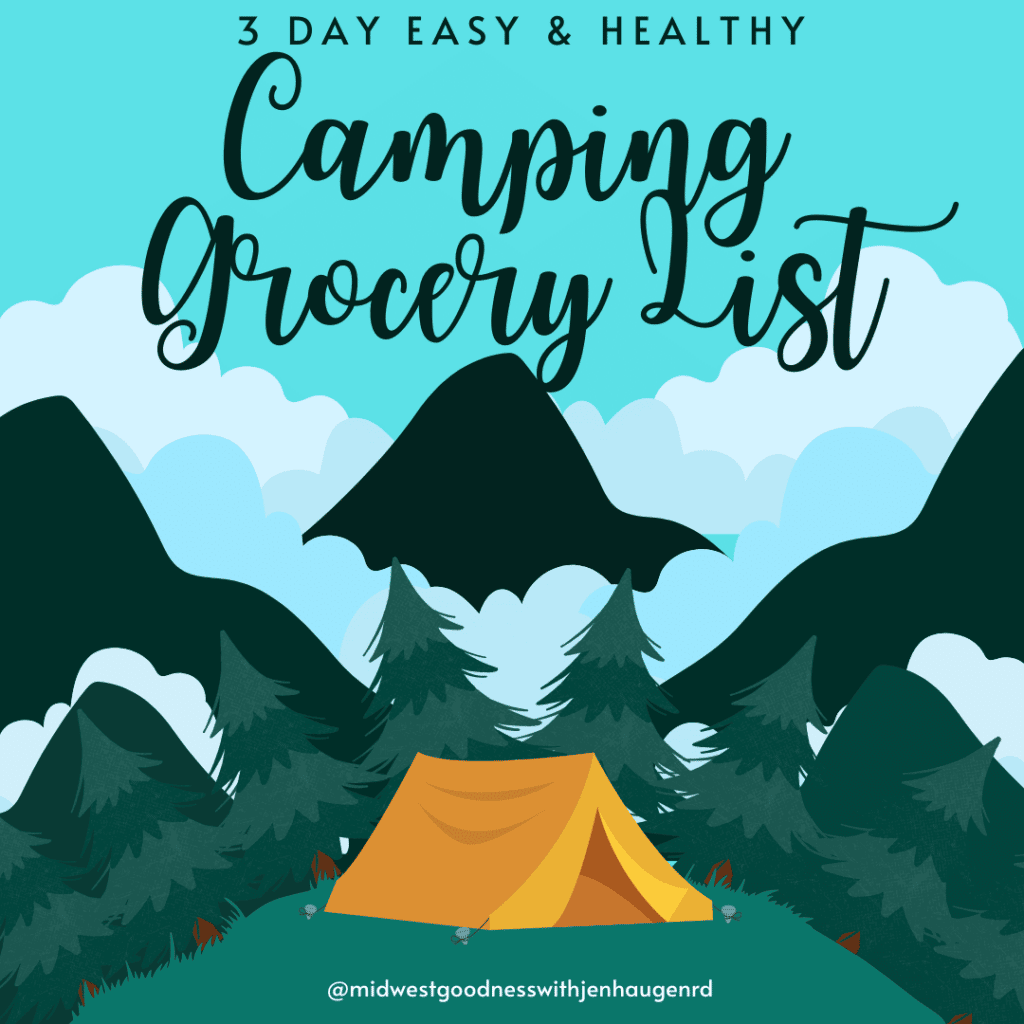 Camping Grocery List:
Meats: 
2 pounds ground beef (85/15 or leaner)

1 pound pre-cooked turkey sausage patties

1 pound beef summer sausage

1 pound bulk turkey sausage
Dairy:
1 gallon Milk (1% or skim)

1 dozen eggs

8 ounces cheddar cheese block

8 ounces shredded cheddar cheese

8 ounces Plain Greek Yogurt
Canned Goods:
Baked Beans (16 oz can)

Blueberry Pie Filling (20 oz can)

Black Beans (15 oz can)
Produce:
1.5 pounds yukon gold potatoes

1 pound bag baby carrots

1 onion

1 pound strawberries

1 pound blueberries

1 pound grapes

1 cucumber

1 small head of romaine lettuce or pre-shredded lettuce

1 tomato

Cilantro

Watermelon Wedges
Refrigerated Items:
½ gallon 100% orange juice

Container of hummus

Container of guacamole
Dry Items:
Foil

Salt and Pepper

Graham Crackers

Marshmallows

Hershey's Chocolate Bars

Ketchup

Brioche Loaf of Bread (for French Toast)

¼ cup sugar

Light Pancake Syrup

Crackers

Pita Chips

Tortilla Chips

Dorito Bags (small individual)

French Dressing

Salsa

Mini Flour Tortillas (Higher Fiber)

Water for cooking/drinking

100% Juice Boxes/Pouches
Feel free to add any other necessary items that your family enjoys snacking on. 
I believe this camping grocery list will make it so much easier to get out to a campground and camp together. Again, be sure to grab my Easy Menu for Camping to print, and then print this grocery list too.
I hope this list makes it easy for you to make memories with your family out on the campground.
Connect with me by signing up for my Midwest Cooking School newsletter where you can get the details on live cooking demonstrations, and tips to make cooking in the kitchen easier with delicious recipes, by clicking here.
Links above are affiliate links and I do receive a small commission from your purchase. And, I would love to help you get your kitchen tools at a discount by hosting your own virtual cooking party! Click the "Contact Me" page to reach out to me to help you!